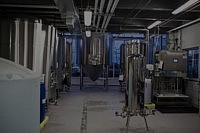 GP Brewing Co. is a Canadian brewery from Grande Prairie, Alberta.

Locals are the true heart of Peace Country—this is the ethos we infuse into every aspect of GP Brewing Co. From local barley, to natural, locally sourced spring water, to 100% Canadian made processing equipment, we provide Grande Prairie with the freshest, highest quality, original brews.
Located in central Grande Prairie on Main Street, GP Brewing Co. operates as both a full service microbrewery and tasting room, serving beer markets across Western Canada. We produce and sell a series of small-batch brews that are the freshest on the market. Nothing is mass produced, and our brews are turned over within 7 days of production.
History

Let's take it back to the year 2012, when Chris, Matt, Derek and Shawn made their way to Whiskey Fest in Victoria, BC. Four guys combined with endless amounts of, arguably, the world's most potent liquor… what could possibly happen?
After navigating their way through the Whiskey Fest lines, our group finally arrived to one of the last whiskeys being offered for sample, where they were denied a taste by the distiller. Feeling perhaps a little too self-confident our heroes responded to their new adversary: they would make their own. The whiskey maker, of course, laughed in their faces and went on with his day, not thinking much of it. Little did he know, Matt was already on his phone ordering a distilling kit.
After returning to Grande Prairie, the new still was put to work. A few test batches later, the guys quickly decided that the distilling process took too long to complete; they wanted to share their creations with the world now. Feeling not even the slightest bit of defeat, they soon realized that brewing beer uses a very similar process to that of whiskey—at a fraction of the time.
It was settled. The guys were going to brew beer. And it was going to be the freshest, tastiest beer that anyone and everyone could drink the sh*t out of.
It would not be an easy road. The city of Grande Prairie had never even heard of a micro brewery. Enter Jay; the man, the myth, the legend that sat through countless meetings with city officials, tirelessly re-defining their perceptions of microbreweries. Our dedication to the community and our eco-friendly brewing system eventually won the officials over. It was a long, hard venture for your beer, Grande Prairie!
You always want what you can't have, and although our group never did get their whiskey, they ended up creating some incredible beer. To this day, we still don't know why that distiller denied the guys of his whiskey, but boy, it's a good thing he did.
Share:

Style:

Hefeweizen

Alcohol Content:

5%

Global Rating:
No News