Half Moon Bay Brewing Company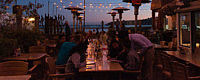 Half Moon Bay Brewing Company is an American brewery from Half Moon Bay, California.


We believe that beer matters – that's why we craft ours from the finest ingredients at our in-house brewery. Located just a stone's throw from the famous Mavericks surf spot, we have ten Half Moon Bay Brewing Company Beers on tap year-round. Whether you want something to pair with your meal or just to drink chilling out with friends, we have the perfect brew for you — piped directly from our brewery to the bar. And our brewmaster is always creating, so keep a lookout for our continuously changing list of seasonal and specialty beers.
Share:
No News