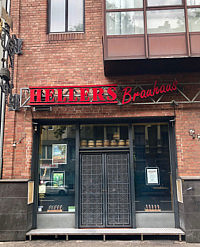 Heller is a German brewery from Köln.

We have been brewing organic beers for you since 1991. We now have seven varieties in our program, from the classic Kölsch to the naturally cloudy Wiess to Altbier.
Since the HELLER brewery was founded in 1991, the range has grown enormously. It all started with the naturally cloudy Wiess, which is considered the original beer or city of Cologne. Of course, the Kölsch is now an integral part of the brewery's portfolio. In 2013 we then took the step towards an Altbier. Since 2016 there has also been an annual special beer. Right from the start and today, after 25 years, we only produce in organic quality. Due to the high quality of our raw materials, we do not only have high-quality products on offer. We also contribute to sustainability in agriculture. As a brewery, we have made it our task to work sustainably. For example, we cooperate with our partner Naturstrom and try to make all work processes in the brewery as sustainable as possible.
Share:

Style:

Bock

Alcohol Content:

6.5%

Global Rating:
No News