Hermitage Brewing Company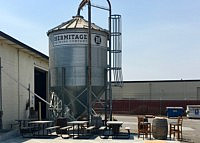 Hermitage Brewing Company is an American brewery from San Jose, California.

We are not a mainstream brewery. We don't copy; we create. Brewmaster Peter and Cellarmaster Greg are obsessive about our quality, and passionately focus on brewing beers that are flavorful, rich in character, aroma driven and unique.
We make beers we want to drink. We are finding an audience for this. Are you with us? We're always experimenting with new ideas and new approaches that take us –outside the ordinary.
We brew 3-4 beers a day, six or seven days a week. Each beer has a story, starting with the best ingredients from around the world, twice-filtered water adjusted to the ideal water chemistry for the style of beer we are creating.
We have deep roots. Our first brewpub opened in 1987, one of the first half dozen in the Golden State, and is still open today. You may not have heard of Hermitage, but we have been busy brewing for many other Bay Area breweries' brands since we opened our production facility in San Jose opened in 2008. In fact, our volume puts us in the top 5% of breweries in the USA.
The size gives us crazy access to technology, people, hops, etc. Our own brand is just now coming into its own, and is rapidly becoming a popular choice, racking up a good share of awards. Maltopia Scotch Ale took home a bronze medal at the World Beer Cup in 2016. Sour Cherry Sour earned a Gold at the 2016 California State Fair, and a Bronze at the 2016 LA International Beer Competition. If you can't find award-winning Hermitage beers in your local bottle shop or grocery, ask for it.
Share:
No News