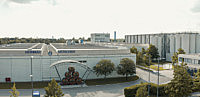 Hofbrau is a German brewery from München.

HB – two letters, one crown: The logo of our brewery Hofbräu München is a promise and motivation at the same time. To brew a "crowned" beer, it takes both the decades-long experience in Bavarian brewing tradition and openness for new technologies, trends and urban drinking habits. To connect today's demands of connoisseurs all over the world and the centuries-old brewing craft from the heart of Munich, is one of our most beautiful tasks.
The story of Hofbräu München began with a culinary challenge more than 400 years ago: Since he found the beer brewed in his court in Munich to be of poor taste and quality, William V, Duke of Bavaria, founded the Hofbräuhaus in 1589 – the birthplace of the brewery and gastronomy. Today, the Hofbräuhaus Bavarian State Brewery in Munich is one of two still Bavarian-run traditional Munich breweries.
Share:
No News