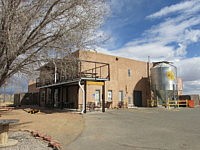 The Santa Fe Brewing Company is the oldest brewery in New Mexico. It is also happens to be the most forward-thinking, environmentally friendly and technologically advanced. Scroll down to learn more about our history, building and tasting rooms.
History
In 1988, a guy named Mike Levis brewed the first Santa Fe Pale ale on some old equipment he bought from the defunct Boulder Brewing Company.
People seemed to like this Milwaukee's Best alternative known as "craft beer," so the guys expanded and began brewing brown ale and porter.
Around 1991, a dachshund named Petey massacred a bunch of chickens at the brewery, and Chicken Killer Barleywine was created as a remembrance.
The brewery continued to grow and win awards, and in 1997, was taken over by Brian Lock, Dave Forester, Carlos Muller and Ty Levis.
The brewery relocated and upgraded to a "gigantic" 15-barrel frankenbrew system, which allowed them to begin selling all over New Mexico and parts of Colorado.
Lock bought the brewery from his partners and relocated again, this time expanding to a 13,000 sq ft building at the top of New Mexico's Turquoise Trail.
In 2005, a brilliant and crazy Hungarian named Alfonz Viszolay mysteriously showed up at the brewery, built the bottling line, and then stuck around to basically engineer every piece of equipment that has since been added.
2010
In 2010, the brewery began canning. It was then that the first ice cold Happy Camper IPA rolled down the line and into the hand of owner Brian Lock who said…
"You can shotgun these," which he did.
In 2015, the brewery brought distribution to 9 states, added an underground barrel-cave for sour aging, broke ground on an expansion and hired Bert Boyce as the new brewmaster to carry on the tradition of making the highest-quality beers.
Share:






Style:

Porter

Alcohol Content:

6.4%

Global Rating:





Style:

Seasonal

Alcohol Content:

6%

Global Rating:


No News