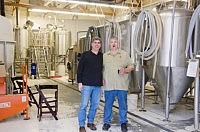 Selkirk Abbey Brewing is an American brewery from Boise, Idaho. Why open a Belgian themed brewery in North Idaho? Well, we live here. We love it here and we're not moving. Second and most importantly, we love Belgian beers. From a refreshing, spicy Saison to a tongue twisting sour or a rich malty Trappist and everything in between, Belgian beers have something for every palate.
The Selkirk Abbey Brewing Company is located in Post Falls in scenic Northern Idaho.  The Brewery has an abbey themed tap room that is a warm and comfortable contrast to the building's industrial exterior.
The production floor is home to a fifteen-barrel, direct fire brewhouse built for us on Prince Edward Island by the crew at Diversified Metal Engineering. It is supported by five fifteen-barrel and five thirty-barrel fermenters, and two fifteen and one thirty barrel brite tank. A typical brewery with similar equipment would be making considerably more beer than we do here at Selkirk Abbey. Our process is more demanding, more time consuming and considerably less forgiving. So, we do it a little slower, and a lot more carefully. Taking our time and catering to our yeast allows us to focus on what is important, our beer. We believe that the extra time and care we give our beer, shows in the glass. We think you'll agree
It is not our goal to be Idaho's largest brewery. There are several other breweries in the state better suited to that task. Our goal is to be the leader of the specialty craft segment by using time honored methods and our own meticulous process, honed by decades of study and practice to produce a single glass of perfect beer.
Share:


Style:

Session IPA

Alcohol Content:

5.5%

Global Rating:


No News