Singha Beer International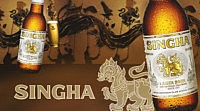 Singha Beer International is a Thai brewery from Bangkok, Bangkok.

Boon Rawd Brewery is the oldest brewery in Thailand, and produces its flagship beer under the Singha brand name. The brewery was founded by Mr. Boonrawd Srethabutra, on whom HM King Prajadhipok Rama VII bestowed the aristocratic title of Phraya Bhirom Bhakdi. Since 1933, the brewery has been under the management of the Bhirom Bhakdi family until today (3rd and 4th generations).
The Singha is a mystical lion, found in ancient Hindu and Thai stories. It is a powerful mythological creature and was chosen as a symbol. The Garuda symbol on the bottleneck is a symbol of Thailand's royalty. The Royal Warrant was given on October 25, 1939. Boon Rawd is the only Thai brewery to be granted Royal Permission to display it.
Share:
No News