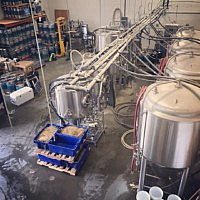 Winterlong Brewing Co. is a Canadian brewery from Whitehorse, Yukon.

Winterlong Brewing Co. was a dream that started in the summer of 2014.
Marko and Meghan Marjanovic had been homebrewing for nearly 10 years, and finally decided to take the risk and start a brewery. They secured a lease, applied for a license, and ordered brewing equipment during the fall and winter of 2014.
In February of 2015, the brewing equipment finally arrived. On April 20th they received their license to brew, and the next day they started brewing, on April 21, 2015.
Doors opened at Winterlong Brewing Co. for a pre-opening on May 15th, 2015. They closed the next weekend so they could bring beer to the Haines Beer Festival, and officially opened on May 29th, 2015.
Since then, the adventure has continued. We doubled our fermentation capacity in September 2015, started bottling in November 2015, and have many more adventures planned for the years ahead.
Winterlong Brewing Co. is a small, craft brewery. We focus on creating beer that is bold in flavour. Our beer is unfiltered in order to maximize flavour and aroma.
Share:

Style:

Double IPA

Alcohol Content:

8.5%

Global Rating:
No News