Boneshaker India Pale Ale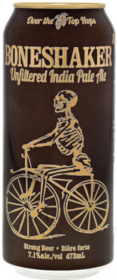 Boneshaker India Pale Ale is a Canadian beer, it has an alcohol content of 7.1%.

Copious amounts of hops balanced with over 4 different malts, unfiltered and naturally carbonated. The result? A truly unique taste experience and an award winning IPA! Expect fresh grapefruit & pine aromas followed by massive hop flavours!
Share: