Amsterdam Brewing Company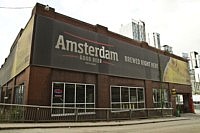 Amsterdam Brewing Company is a Canadian brewery from Toronto, Ontario.

The Amsterdam Brewing Company is an independently owned and operated craft brewery that is deeply rooted in the city of Toronto. A pioneer of the craft beer revolution in 1986 and initially called the Amsterdam Brasserie and Brew Pub, "The Amsterdam" was the first of its kind in Toronto to offer patrons hand crafted lagers and ales that were brewed in-house. Today we brew over ten different beers including our flagship lager – Amsterdam Natural Blonde, the award winning Big Wheel Amber and Boneshaker IPA, along with multiple year-round, seasonal and specialty brews.
The Amsterdam Brewing Company uses only traditional brewing methods and our beers are made with four all natural ingredients – malt, hops, yeast, and water. All beers are GMO-free, without preservatives, and never heat pasteurized.
History
Our story begins back in 1986, with a vision of bringing unique beers, full of flavour to the city of Toronto. It's a combination of good people, good ideas and good beer that has brought us to where we are today. We put just as much craft and care into our beer, as all the things that happen around it. We've enlisted only the most dedicated employees who are relentlessly committed to bring fresh and flavourful beers to local and like minded beer drinkers.
We've also refused to stop trying, bettering ourselves and bettering our community. And to brew beer that others wouldn't even think of. It's a combination of fearless innovation, uncompromising individuals and deep-rooted pride in the city of Toronto that has allowed us to create a different type of beer company. And a DAM GOOD one at that.
Share:

Style:

Witbier

Alcohol Content:

5%

Global Rating:
No News