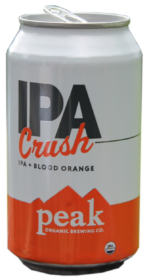 Crush IPA is an American beer, it has an alcohol content of 7%.

Crush IPA takes the citrus characteristics of Peak IPA and elevates them with a subtle addition of organic blood orange peel. The juicy citrus aroma really pops, and the brisk body of the beer is accented with notes of bright ripened fruit.
SUGGESTED FOOD PAIRINGS: Mango Salad, fish taco's, Fajitas, lemon-baked cod.
Share: