Peak Organic Brewing Company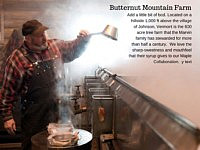 Peak Organic Brewing Company is an American brewery from Augusta, Maine.


We are a small brewing company dedicated to making delicious, creative, hand-crafted beer. When possible, we prefer to source from artisan and local farmers who grow organically. These farmers tend to grow exceptional ingredients, making our beer tasty.
We started off as home brewers in the nineties, experimenting incessantly with new recipes and styles. Most often, our concoctions were enjoyed after "peak" experiences in life, such as a spectacular day in the outdoors or quality time spent with friends, family and tasty cuisine.
Over the years, our recipes were further honed and brewed with various types of equipment in several different locations. As time went on, more local and organic ingredients were used in the batches, resulting in outstanding improvements in taste and quality. At that time, our mission became clear—to make the world's most delicious and creative beers, and to make them in a way that we can feel good about.
We hope you enjoy our beers and find time to celebrate the peak moments in your life.
Share:
No News