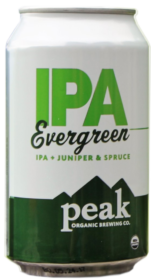 Evergreen IPA is an American beer, it has an alcohol content of 7%.

Evergreen IPA is built from Peak's flagship IPA, but enhances the hoppy pine notes by blending in organic juniper berries and organic spruce. The result is a unique IPA with bright pine and resin hop character. The finish is distinctly crisp, begging for another sip.
SUGGESTED FOOD PAIRINGS: Thai Food, green curry, a juicy burger, or pho.
Share: