Fourpure Basecamp Pils Lager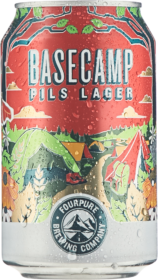 Fourpure Basecamp Pils Lager is a British beer, it has an alcohol content of 4.7%.

Fourpure's core beers are their core beers for a reason: they're well designed, expertly crafted and they hit the style on the head without exception. Enter stage left, Pils Lager. It's crisp and spicy at a sniff, belying the noble hops you're sure to find within. A sip gives you a subtle hoppiness; some citrus just beneath the classic german hop earth and spice. At the end, like any good Pils should, the super clean and fresh malts take centre stage before it's all finished beautifully on the classic slight bitterness that lets you know that this is a proper Pils for proper Pils drinkers!
Share: