Octopus Wants to Fight IPA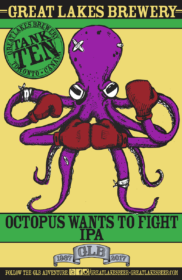 Octopus Wants to Fight IPA is a Canadian beer, it has an alcohol content of 6.2%.

It pours a beautiful burnt gold edging into a dull orange, like a orange creamsicle complete with a tight white head. As you can imagine, lots of tropical fruits abound from the glass with the first whiffs, followed by a walk in the woods as pine, evergreen and some herbaceous notes are picked up. The first sip provides some sweetness, some dank grass combined with pine needles and then onto "juicy fruit". Soft body with some middle mouthfeel bitterness that tastes like another.
Share: