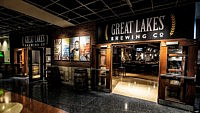 Great Lakes Brewery is a Canadian brewery from Etobicoke, Ontario.

A fiercely independent owned and operated brewery, Great Lakes celebrated 30 years in the craft beer business in 2017, making them one of the oldest craft breweries in Ontario.
GLB specializes in producing flavourful beers that will be sure to awaken your taste buds with each sip. From unique seasonal ales, bottle conditioned releases, year-round ales and premium lagers to their 7 Barrel and Tank Ten Series of beers, GLB produces a variety of products to be enjoyed by everyone!
Based in Etobicoke at 30 Queen Elizabeth Blvd., GLB invites you to visit the brewery for a taste of award-winning beers in their bustling taproom and retail store 7 days a week. While there, enjoy food from The Wavy Wall, GLB's in-house craft kitchen.
Share:
No News