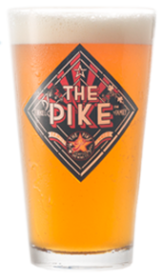 Pike Third Story is an American beer, it has an alcohol content of 7.5%.

Pike Brewing Company introduces the Third Story, a series of one-time-only, imaginative craft beers from Seattle's original urban brewery. Coming straight from Pike's newly expanded brewery cellar, the Third Story series is launching at a fertile time for exploration in craft beer.  The recent availability of new ingredients like Cryo hops, locally grown malts and new yeast strains combined with craft beer drinkers' clamor for more adventurous brews lines up perfectly with Pike Brewing's veteran brewers' itch to explore.
Beers in the Third Story series will be brewed one time only as frequently as possible and will be available only on draft for their limited and delicious time.
First from Third Story series is a fun to drink hazy IPA. Big hop aromas greet you followed by a playful juicy sweetness reminiscent of mandarin oranges. Take a break from bitterness and indulge in all the juicy, citrus flavors of Centennial and Mosaic hops with this hazy IPA.

Share: