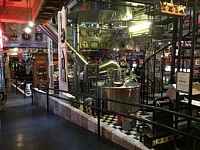 Pike Brewing is an American brewery from Seattle, Washington.

Who knows what we'd be drinking today if it weren't for one couple's love of complex craft beers and each other.
History
It was 1989 and Charles and Rose Ann Finkel finally realized a long time dream to open their own brewery in Seattle. During their travels the Finkels had fallen in love with the many beers of Europe, including ales in England, fruit beers in Belgium and pils, dunkels and dopplebocks in Bavaria. Inspired to bring these malty brews back home, where light, mass produced lagers still dominated the American palate, they pioneered a beer & wine importing business. Working with the world's greatest brewers was inspiring as was seeing how Washington's wine industry was growing.
The Finkels knew that the time was right to start brewing their own full-flavored beers for Seattle.
Charles and Rose Ann were smitten by the Pike Place Market – an icon and attraction dedicated to local food & tastes. Liberty Malt Supply, a homebrewer's paradise owned by John Farias, was located directly under the market in the La Salle Hotel and the Finkels bought the business to expand with a microbrewery. There on Western Avenue they began building the Pike Place Brewery, becoming the third microbrewery in Seattle. The brewery was state of the art for the time, with a four barrel copper kettle custom made by Seattle's Alaska Copper and Brass Company.
On October 17, 1989 the Pike Place Brewery, as it was then known, officially opened with The World's Shortest Non-Motorized Uphill Parade. Leading the parade was Liberty Malt Supply's John Farias, pushing a keg of Pike Pale Ale in a silver, two wheeled hand truck. Following were the Finkels, Franz and Angela Inselkammer from Bavaria's Ayinger Brewery, Pike Brewing brewer, Jason Parker. Alongside them were a host of TV and newspaper photographers and writers and almost 100 beer lovers. Joining the festivities was also a llama from The Herb Farm, a walking geoduck from the Seattle Sheraton Hotel, dogs, a cat and an oyster. Everyone (perhaps not the oyster, which was later eaten) sensed that they were making history. When the happy procession arrived two blocks uphill, at Cutter's Bay House, the inaugural pint  of Pike Pale Ale was tapped and poured by Franz Inselkammer, the Braü von Aying.
After the opening festivities the day-to-day work of the brewery took off quickly. Pike Brewing knew that Northwesterners were eager for more complex and flavorful ales and they set out to supply Seattle's restaurants, bars and hotels with world class beers. In addition to the Pike Pale Ale the Pike XXXXX Stout was introduced. Bottling began, using a classic and handsome swing-top bottle which required a deposit (and was rarely returned). All the beers' labels were designed by Charles himself, who is recognized internationally for his iconic labels for brands such as Samuel Smith in England and Ayinger's Celebrator.
Fal Allen became Pike Brewing's head brewer in 1990 and introduced Pike Brewing's fans to hops with the introduction of the Pike IPA. IPA's were not prolific like they are today, and more than a few people scoffed at a beer with so much hop flavor. Luckily they were wrong. Next up was the beer that would become Pike Brewing's flagship beer – Pike Kilt Lifter, a ruby-red Scotch ale.
At this point in the game Pike Brewing started to get a hint that they were brewing up something unique. Beer critics took notice, praising Pike Brewing's collection of ales.  Michael Jackson, the renowned Beer Hunter, was quoted as saying of Pike Pale Ale,  "This is a pale ale in (the) traditional, robust style, full of nutty malt flavors, with fruit and balancing hoppy dryness; a wonderfully appetizing beer that slips down like cream." Beer medals, from prestigious competitions like the Great American Beer Festival and the California Beer Festival, started finding their ways onto the brewery's walls. Within a matter of 7 years it became clear that Pike Brewing needed more room to brew and was ready to expand its offerings.
In 1996 the little brewery that was Pike Place Brewing moved up the hillclimb to its current location, on First avenue between PIke and Union. The name changed, dropping the 'Place' to simply become Pike Brewing; but a lot more was added. There was the The Pike Pub, a welcoming public house that serves local and sustainable pub fare which pairs perfectly with Pike Brewing beers. Pike Brewing hired Chef Gary Marx as Executive Chef of the new Pike Pub and we are thrilled that he remains as our Chef today. The brewery grew too, moving to its current capacity of 30 barrels.  With a nod to brewing history, the new brewery was built to be gravity fed, using all three stories of the building for brewing. The grist case and mash tun are located on the top floor, the brew kettle in The Pike Pub dining room and the brew house below. Lastly came the Microbrewery Museum – which Charles has personally curated to showcase 9,000 years of brewing history.
Pike Brewing has always been a place for talented brewers to hone and expand their craft. Notable brewers who have called Pike Brewing Company home include Drew Cluley, Fal Allen,  Kim Brusco, Dick Cantwell and Dean Mochizuki. They and many other Pike Brewing alumni created a special collaboration brew in 2014 to celebrate Pike's 25th anniversary.
Share:

Style:

Double IPA

Alcohol Content:

10%

Global Rating:
No News