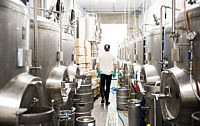 Brassneck Brewery is a Canadian brewery from Vancouver, British Columbia.

Well guys, we just make beer. That's it.
The public space at Brassneck, i.e. the Growler Shop & Tasting Room are designed to have you, our customers feel as though you are part of our process. The brew house & cellar wrap around the tasting room & growler shop putting you in the very heart of the Brewery.
We have a special type of liquor license. A Brewery Lounge. Patrons do not have to be seated as in many other Food Primary locations in Vancouver. This combined with our communal tables makes for a pleasant social environment.
We have a really tiny 10 Hec system, with an even smaller Nano system for batches of around 4 Hecs.
Even though our system is small, we have lots of different fermenters. 14 in total (including a beautiful oak fermenter called a Foudre). This allows us to brew lots of different beers on a constantly rotating basis.
We are ALWAYS experimenting with different beer styles. We are three & a half years old & we've already brewed about 120 different beers. From Barrel Aged Imperial Stouts to Corn Lagers, Sour beers to English Milds, Brett Primary Fermented Wheat Ales to Traditional Saisons, the scope of beer styles is endless & we intend to cover them all!
Our beer comes to you direct from the conditioning tanks in our cellar & sells out quickly, so it's always fresh.
Conrad Gmoser is our Head Brewer & partner, aided by Jeff Leake & Scott Wannop.
We're always evolving so get ready for more great beers as time goes by & we expand production & have greater capacity for experimentation.
Share:

kind: Lager hopped with Sazz abv: FIRST BREWED: June 2023 Lager hopped with Sazz Share: ... Read More

kind: Cold Pale Ale abv: 5.5% FIRST BREWED: June 2023 Cold Pale Ale collaboration with Field House Brewing Share: ... Read More

kind: Dry hopped Tart Beer abv: 6.0% FIRST BREWED: June 2023 Dry hopped Tart Beer with Moteuka. Share: ... Read More

kind: Coconut Saison*** abv: 5.5% FIRST BREWED: June 2023 Coconut Saison Share: ... Read More

kind: Old School IPA collaboration with Woodcutters*** abv: 7.0% FIRST BREWED: June 2023 Old School IPA Share: ... Read More

kind: West Coast IPA – Collaboration With Parallel 49 abv: 7.50% FIRST BREWED: June 2023 Collaboration With Parallel 49 West Coast IPA Hopped With Vista, Centennial and Simcoe – Collaboration With Parallel 49 Share: ... Read More

kind: Jackfruit IPA*** abv: 6.5% FIRST BREWED: April 2023 Jackfruit IPA Share: ... Read More

kind: abv: 4.8% FIRST BREWED: April 2023 American Pale Ale with Citra, Mosaic, Talus, & Cascade hops. Share: ... Read More

kind: New Zealand IPA abv: 6.5% FIRST BREWED: April 2023 New Zealand hopped IPA featuring Rakau, Nelson Sauvin, Motueka & Riwaka Share: ... Read More

kind: Belgian Style Witbier abv: 5.0% FIRST BREWED: July 2022 A Classic Belgian Wit Brewed With Coriander & Curacao Orange Peel Share: ... Read More

kind: Imperial pastry stout with wafer cookies, hazelnut extract, vanilla & cocoa abv: 10.5% FIRST BREWED: October 2021 Imperial pastry stout with wafer cookies, hazelnut extract, vanilla & cocoa Share: ... Read More

kind: Pink Guava Tangerine Sour abv: 5.5% FIRST BREWED: September 2021 Pink Guava Tangerine Sour Share: ... Read More

Cold IPA? What's that supposed to mean? Isn't my IPA always cold? (unless I'm a lifelong CAMRA UK member & I like me pints pulled on a proper beer engine & about the same temp as I like me baths…WARM!) Please allow us to explain…A Cold IPA is an IPA fermented cold & slow with ... Read More

We've been hanging on to this one allowing it to grow in complexity. Almost a year since we first brewed this beer had plenty of time in oak barrels to impart soft, delicate vanilla flavours. The grape must gives us a wonderful, subtle fruitiness backed up with easy going acidity. We are proud of this ... Read More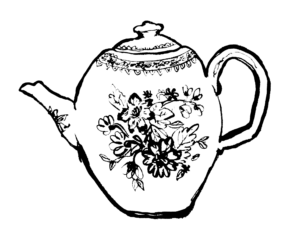 kind: English style IPA abv: 5.5% FIRST BREWED: March 2021 Get yer pinkies ready it's time to try to make friends with a quiet, reserved little chappy who unlike their American cousin from New England doesn't like to be the loudest in the room. They'd rather just try to win you over with classy malts ... Read More

FIRST BREWED: December 2020 Holiday Hours: Dec 31st noon – 7pm, Jan 1st closed Share: ... Read More