Brazo Fuerte Artisanal Beer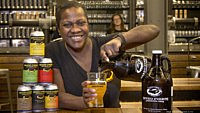 Brazo Fuerte Artisanal Beer is an American brewery from Massachusetts.

We want to deliver this highest quality beers to the active beer drinker all d@mn day.
We are a sustainable craft beer company dedicated to brewing high-quality session ales that you can drink all day. What that means to us is using the best, most unique and local ingredients. We are also committed to sharing ways smaller craft brewers can find sustainable methods to brew.
Share:
No News