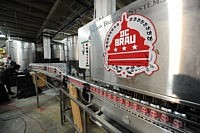 DC Brau Brewing is an American brewery from Washington, District of Columbia.

Yes, the capital of the United States of America now has a beer to call its own. A beer brewed within the city limits and available citywide. A beer representing a delicious and uniquely American blend of North American and European techniques and ingredients. A beer that looks just as inviting in a pint glass at the neighborhood bar as in its handsomely designed can on a picnic table at an Appalachian campsite. A beer that pairs just as well with summer's barbecued bounty as with a hearty winter stew. A beer crafted in our nation's capital that reflects the great state of brewing in the United States today.
The fact that D.C. has become a world-class beer town is undeniable. The choices available to the local beer nerdery are staggering and ever expanding. The neighborhood corner stores continue to add microbrews to their stock and it seems that a dynamite draft selection is essential to any new bar that opens. Restaurants regularly hold beer dinners featuring multi-course food and beer pairings and for seven days in the spring, during DC Beer Week, the number of beer-themed events can make the head spin. At a handful of downtown brewpubs the beer enthusiast can sample a variety of house made brews. What D.C. has not had in over 60 years, however, is a brewery whose product is available in local stores and on tap outside of its site of production.
Enter Brandon Skall and Jeff Hancock, two D.C. residents who, as music fans, avid bar goers, and enthusiastic men-about-town, are acutely aware of the empty tap handle or store shelf where a local beer ought to be found. These two men, sharing years of experience in both brewing and beverage distribution, are uniquely equipped to fill this void and thus have decided to combine their knowledge and passion to found the DC Brau Brewing Company. With extensive experience in restaurant management and the beverage industry, Brandon handles sales duties and the business of the brewery. Touting extensive experience in the commercial brewing industry, Jeff is our beloved Brewmaster. Since serving an apprenticeship at Franklin's Restaurant and Brewery in Hyattsville, Maryland, Jeff has brewed at Grizzly Peak Brewing and Arbor Brewing companies, both in Ann Arbor, Michigan, and at Flying Dog Brewery in Frederick, Maryland. With their individual talents and a shared love for the city, Brandon and Jeff form a perfect team to bring a delicious, locally brewed beer to the consumers of DC.
Share:
No News