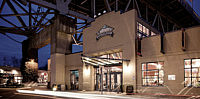 Granville Island Brewing is a Canadian brewery from Vancouver, British Columbia.


Driven by a firm belief that the West was ready for a premium, natural, unpasteurized beer Granville Island Brewing introduced locals to our now famous Island Lager.
The Small Batch brewery on the island is Kevin Emms' playground or "test kitchen" as he develops Granville Island Brewing's premium, limited release small batch beers, as well as crafting future innovation through trialing new techniques and ideating around styles. Brewery visitors are sure to find exciting variations tested in the taproom for real-time feedback.
Share:
No News