Green Flash Brewing Company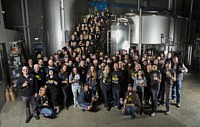 Green Flash Brewing Company is an American brewery from San Diego, California.
From humble beginnings came true enlightenment for this leading San Diego-based brewery. Mike and Lisa Hinkley established Green Flash in 2002.  Today, they lead a talented team of like-minded craft beer enthusiasts, who embrace the Green Flash culture and brand vision with passion and zeal. Every batch of beer is a labor of love and is a true Green Flash collaboration.
Our Brewmaster, Erik Jensen, and his talented brewing team have developed an award-winning assortment of specialty craft ales that are uniquely Green Flash. After releasing the game changing West Coast IPA, our beers developed a loyal following of craft beer lovers. We remain steadfast in our commitment to a beer first philosophy. For that, we are celebrated by beer enthusiasts worldwide. To keep our fans thirsty for more, we consistently produce experimental, limited-edition and seasonal offerings in addition to a solid lineup of long-time favorites. Through our trailblazing approach to craft brewing, we have established a benchmark within the craft beer community. Our award-winning beers are on draft, bottled and are available throughout the U.S.A in bars, restaurants and retail outlets.
Share:
No News