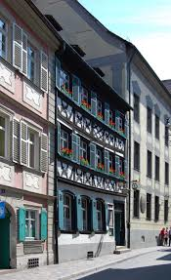 Heller-Trum is a german brewery from Bamberg.
The historic Schlenkerla smoked beer brewery is located in the middle of Bamberg's old town, at the foot of the high cathedral. Documented for the first time in 1405 as "House for the Blue Lion", the 6th generation of the Schlenkerla is now run by the Trum family and is the source of Bamberg's specialty Aecht Schlenkerla Rauchbier. According to the old tradition, the smoked beer is still tapped here from oak barrels.
History
The history of the Schlenkerla Tavern building starts together with that of the monastery, which was founded in the 14th century.
In the time between 1405 and 1615 the building was sold a number of times. During the 30 Year's War (1618-1648) the house was destroyed and rebuilt. The reports before 1678 are scarce, but in that year the brewery was founded and from that time on one can find more and more in the records.
Since 1678 there have been numerous owners of the brewery. Very important of whom was Johann Wolfgang Heller, who took over in mid 18th century. He already owned an old rock-cellar for beer storage up on the hill "Kaulberg" just outside Bamberg. Later on, this storage facility was moved to another hill, called "Stephansberg", which is nowadays in the middle of town. In the 19th and 20th century the brewery was moved step by step to that location just above the ancient cellars on Stephansberg. In the trade-registry the official name of the brewery is "Heller-Bräu", even if everybody just calls it Schlenkerla.
1877 was a very important year for the tavern, as Andreas Graser became the new owner. He was a little bit handicapped and moved his arms in a funny way when he walked. In the Franconian dialect this is called "Schlenkern". People soon started to call the place Schlenkerla, and the name has remained until today
In 1907 his son Michael Graser took over the brewery. More and more guests came to the tavern, and a part of the former monastery was taken on lease from the Bavarian government, which had become the owner during secularization. The paintings in the beautiful gothic-arched sealing of this "Dominikanerklause" were being restored by the Germanic Museum of Nurnberg in the 1920s.
In 1960 this part of the tavern was bought from the state and Michael Graser's daughter, Elisabeth, and her husband, Jakob Trum, took over the brewery. In 1967 they handed over the brewery and tavern to their son German Trum.
Share:

Style:

Christmas

Alcohol Content:

8%

Global Rating:
No News