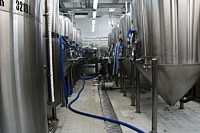 Hong Kong Beer Co. was launched as Asia's first craft brewery to sell beer exclusively in bottles and kegs. Established in 1995 as South China Brewing Company, the current name was adopted in 2003. HKBC was acquired in 2013 by Devin Otto Kimble and Daniel Flores, the two founders of Singapore's multiple award-winning Brewerkz Restaurant & Microbrewery, which they opened in 1997. With no current ties to Singapore's longest running brewpub, the new owners are fully committed to making HKBC a world-class brewery.
BORN IN AMERICA Simon Pesch, a craft beer industry veteran with almost 20 years of professional brewing experience in the United States, leads the HKBC operations. The former brewmaster at Pyramid Breweries in Berkeley, California, he was responsible for production of up to 167,000 hectoliters (140,000 barrels) annually. Simon's beers are internationally acclaimed and have been awarded 1 bronze, 2 silver, and 6 gold medals at the Great American Beer Festival. He has also received the Brewers Association's highly prestigious American mid-sized brewery Brewer of the Year award.
BREWED IN HONG KONG HKBC sources the finest malts, hops, and yeasts from around the world but water is, of course, a local ingredient, and it is carbon-filtered and mineral-adjusted according to the style being made. The brewery has a capacity of approximately 6,000 hectoliters (5,000 barrels) per year and the American-made, 20-barrel JVNW system is now located on the ground floor of the Wah Shing Centre in the Hong Kong Island neighborhood of Chai Wan.
LOOKING GOOD To match the class of what's inside the bottles and kegs, all labels and graphics have been totally revamped by Cultivator Advertising & Design, a Denver, Colorado-based world-leader in craft brewery graphic design.
READY TO BE ENJOYED HKBC will feature state-of-the-art, award-winning bottle-filling technology from Germany, which is specifically designed to maximize the freshness and quality of our bottled beers, dramatically reduce carbon dioxide usage, and give local and export consumers alike a full range of distinctive labels that we hope will make Hong Kong proud of its hometown brewery.
Share:

Style:

IPA

Alcohol Content:

7%

Global Rating:


Style:

Amber

Alcohol Content:

5.1%

Global Rating:


Style:

Blond

Alcohol Content:

4.6%

Global Rating:
No News