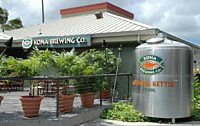 Kona Brewing Company is an Hawaiian brewery.

Aloha. That's how most conversations begin here. It's also how many of them end. But "Aloha" doesn't just mean hello and goodbye and love and welcome. It means more than a word can express. It's a feeling. A way of life. "Aloha" is the idea that we are all connected to everyone and everything around us and that true joy is found in respecting this connection. And it's in this aloha spirit that the Kona Brewing Company was founded back in 1994 by Cameron Healy and his son Spoon Khalsa. They combined their love of Hawaii and its pristine, natural beauty with their fondness for delicious, local brews, and lucky for us, their dream lives on more than 20 years later.
Here at the Kona Brewing Company, we know the future of Mother Earth depends on the way that we treat her. So we brew our beer sustainably, using solar energy to power our Big Island brewery, on-site gardens to recycle our water, and even leftover grains to bake into our pizza crust for the Kailua-Kona brewpub. We think the earth is pretty great. Let's keep it that way!
We have dramatically reduced our reliance on transportation fuel for raw materials, packaging and distribution by bottling, canning and producing beer for the mainland, at our affiliated mainland breweries. This practice allows fans in all our markets to receive the freshest, most sustainable beer possible.
Share:

Alcohol Content:

5.4%

Global Rating:
No News