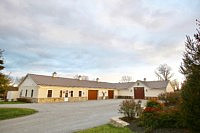 Manor Hill Brewing is an American brewery from Ellicott City, Maryland.

Manor Hill Brewing is Howard County's first farm brewery. Located on the Marriner Family's 54-acre working farm in Ellicott City, Maryland, our head brewer uses high quality seasonal ingredients to craft hand-made beers from original and unique recipes. The result is aromatic, hop forward farmhouse style beers.
Like most roads on the journey of life, this adventure has been full of twists and turns. Mary and Randy Marriner, with their two daughters, Rachael and Tori, own Victoria Restaurant Group. They opened Victoria Gastro Pub in November 2007. It would remain the only restaurant operated by the Victoria Restaurant Group until 2017. Manor Hill Tavern in Old Ellicott City would become their second restaurant in February 2017 and will be followed by the third concept, Food Plenty, later in 2017.
Share:
No News