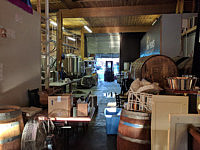 Northwest Peaks Brewery is an American brewery from Seattle, Washington.

The NW Peaks vision began 8,000 feet above Seattle, where the air is freshest and the cleanest water races to the ocean below.
This vision became a physical reality in 2009 in the form of a small "garage" on 17th and Leary, right in the heart of Seattle's fledgling Ballard Brewery District. For years, loyal Good-Beer-Aficionados would line up every couple weeks outside the makeshift brewery/taproom to enjoy a pint and share their peakbagger stories.
We have since moved to Hillman City in South Seattle. Located just south of Columbia City on Rainier Ave S, the taproom offers incredible views of Mt. Rainier from the patio, reminding everyone who stops by just why NW Peaks Brewery began in the first place.
Share:

Style:

Stout

Alcohol Content:

5.25%

Global Rating:
No News