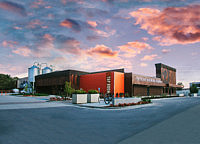 Payette Brewing Co. is an American brewery from Boise, Idaho.


When it comes to making uncompromising, awesome beer, we go against the grain. We are passionate, rebellious, beer pioneers. We stick to our guns and venture down the road less traveled to make the best beer in the west. This isn't just our livelihood, it's our life and we've tapped into something good.
Purpose
To share our passion for beer, life and all things off the beaten path.
Mission
To continually brew awesome beers while building a culture that connects, educates, makes a difference and champions the craft brew industry to our consumers, community and partners.
Share:

Style:

Brown Ale

Alcohol Content:

5.5%

Global Rating:
No News