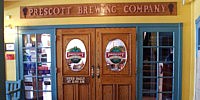 Prescott Brewing Company is an American brewery from Phoenix, Arizona.

BC® is well-established and highly successful, with a history of annual growth since inception. We foster a team oriented management style. We offer an excellent casual, yet professional, dining experience for our guests, never pretentious, emphasizing "fun & friendly… brewpub style" menu selections and service. We are high-volume, fast paced and right in the middle of all the action for the dozens of events that take place right outside our doorstep on Prescott's hometown Courthouse Plaza. We are community minded and involved in many local events and fundraisers. Our kitchen is a 99% scratch kitchen, providing a large & varied menu. Our bar is lively and we attract people of all ages and backgrounds. We are hands-on owners and look for managers with the same philosophy.
We're also pleased to announce that Prescott Brewing Company®, the MICROBREWERY, is now an extension of our brewery operations!  With the introduction of PBC® Liquid Amber Ale and Ponderosa IPA in cans, we quickly outgrew our little 7-barrel brewhouse that's been our workhorse since opening in 1994.  So we bit the bullet and built an off-site microbrewery production plant out by the Prescott airport in 2011.  The first 30-barrel batch of Liquid Amber was brewed by John and Lead Brewer, Jan, on December 27th, 2011 and was a true better- late- than- never Christmas gift!  Look for both brands increasingly available throughout Arizona.  And thus the story continues.
PBC® celebrated its 20TH ANNIVERSARY downtown Prescott in March of 2014….thanks to our many loyal supporters, locals and visitors alike. 20 years of hard labor…nah, not that bad, but 20 years in the restaurant business is a LONG time!  So, we'll just keep on keepin' on and are excited to expand the selection of canned product for distribution as production allows out at the airport location.
YOU are included amongst those who've allowed us to thrive, contribute to our community and keep 65-75 employees on staff all year long! As everyone knows, these have been difficult times for many. We believe every one of us knows personally of someone who has struggled these past few years with job loss, or a small business owner who has had to lay off a good employee, or maybe has had to close their business. Luckily, PBC® is okay, thanks to YOU. Not to say we wouldn't want more of the dining dollars out there…but we're extremely grateful for the continued support of those in our community and visitors from literally all over the world. We'd like to remind everyone that each of us can make a difference in our communities by shopping local, supporting locally-owned, independent businesses, supporting our local charities and non-profits and volunteering for our favorite causes. Prescott is an amazing community…let's keep it that way!
Share:

Style:

Hefeweizen

Alcohol Content:

5.2%

Global Rating:
No News