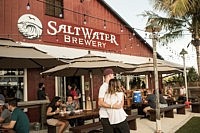 SaltWater Brewery is an American brewery from Delray Beach, Florida.

Founded in December 2013 by a team of local Floridians, Saltwater Brewery is Delray Beach's first local production microbrewery, with tasting room and beer garden onsite. Using only pure and natural ingredients, each style of handcrafted beer and corresponding name is inspired by the ocean to reflect the lifestyle and passion of the Founders.
Saltwater's goal is to maintain the world's greatest wonder by giving back through ocean based charities (CCA, Surfrider, Ocean Foundation, MOTE Marine Labs) and our world's 1st Eco Six Pack Rings Over 12 styles are typically available in the tasting room, while Screamin' Reels IPA, Sea Cow Milk Stout, Passion Pit, and LocAle are distributed in cans and on tap throughout the state of Florida. Packaging is done on-site with the brewery's in-house canning line, which includes an in-line labeling machine for seasonal and special releases.
Share:
No News