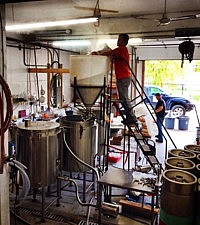 Three Ranges Brewing is a Canadian brewery from Valemount, British Columbia.
It all started with Michael's first trip to the mountains of Valemount.
"This place is amazing, but what does one do for work?"
"One solution is to create your own job," his wife Rundi said, "You drink enough beer, why don't you make it?"
This became their long term dream.
Upon retirement from the US Army in 2010, Michael threw himself into brewing – home brewing, immersion in the beer world, and volunteering at craft breweries. In a turn of fate, Rundi's position at Parks Canada was affected by the Federal budget cuts of 2012. Ironically, Michael & Rundi learned of this while they were on a month long holiday of craft breweries in Oregon and California. Their long term dream soon became their immediate plan. They began looking at communities in Washington and British Columbia for their brewery, and before long came back to the idea of building a brewery in the beautiful small town of Valemount situated in the BC mountains.
"Always feels like home here!" – Hope
"Gem! Awesome beers! Didn't expect to find a microbrewery here! Glad I had my growlers nearby! Nice selection of good beers, have a glass inside or sit on the patio and look at the mountains!" – Bud
"Spent the month of September traveling through Nelson, Banff, Jasper, Whistler, Squamish, Vancouver, and every hamlet in between – Three Ranges served up THE best beer on our whole trip. Next time we'll have our skis with us, see you then"! – Lorna
"I am not a beer drinker but had a taste of my friends sampler beer. Tasting the Tail Slap IPA was amazing. Absolutely fell in love with it. Also would like to let you know that the young girl that was working was so friendly and helpful and letting us know about the beer. It was refreshing to get such good customer service!!!" – Carol
Share:
No News