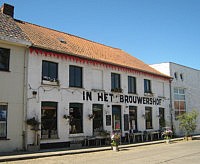 1624 Belgium, in the Flanders region, The city of Watou near Poperinge, was granted the privilege of becoming an earldom for the Earls van Yedegem. This family owned the castle of Watou, to which they constructed a brewery.
1795 During the French Revolution the plundering French troops burned the castle and the brewery. The noble family escaped the guillotine by running off to England.
1820 The brewery was rebuilt by a local farmer, under the typical Belgian slogan "Revolt all you want, but we still need beer here." The brewery was then named "In de Gouden Leeuw" (In the Golden Lion)
1862, The Family Van Eecke became the new owners of the brewery by marriage, and started brewing top fermenting country ales. The brewery had an important, local significance until well after WW II.
Share:
No News