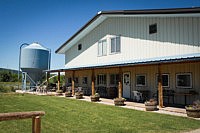 Grand Teton Brewing is an American brewery from Boise, Idaho.

Grand Teton Brewing is committed to crafting only the highest quality ales and lagers. We take measures at every point in our brewing, packaging and shipping process to ensure that we deliver only the best beers to you. Our Quality Manager performs multiple tests of every batch at every stage and conducts daily tastings of our finished brews to guarantee that only the best possible beers make the journey from our brewery to your glass.
We believe that Teton Valley, Idaho is the best place on earth to craft beer. Our water is glacial run-off, filtered over 300-500 years by Teton Mountain granite and limestone before it surfaces at a spring a half mile from the brewery. Teton Valley grows the world's best malting barley, and Southern Idaho includes some of the finest hop farms in the world.
History

Grand Teton Brewing was founded in 1988 by Charlie and Ernie Otto as Otto Brothers' Brewing Company, which was the first modern "micro" brewery in the state of Wyoming.
In a quest for full-flavored, freshly-brewed, locally-produced beers, Charlie and Ernie, brothers of German-Austrian descent, built a small brewhouse in Wilson, Wyoming and secured the first malt beverage manufacturers' permit issued in Wyoming in 35 years. Believing that great tasting, preservative-free, authentic hand-crafted beer could find a niche in the modern marketplace, the Otto brothers presented their flagship amber "Teton Ale" to local draught establishments in 1989. "Old Faithful Ale" and "Moose Juice Stout" brews soon followed.
In 1989, the brothers discovered a long forgotten container, a European lidded tin-pail known as a "growler" and reintroduced it in a modern, 64-ounce glass jug version. "Growlers" are now sold at breweries throughout the nation. Otto Brothers' Brewing Company enjoys the credit for having recreated this novel and environmentally-friendly idea.
Share:
No News