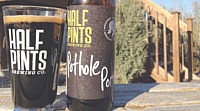 Half Pints Brewing Co. is a Canadian brewery from Winnipeg, Manitoba.
Half Pints Brewing Company was born in the summer of 2006.
As an idea, we were certainly different than the others before us. Start small, grow slowly, and above all else, make great beer. It's an idea that now seems commonplace, but at that time, was a departure from the norm.
As we grew, we added more members to our family, many of whom are still with us today.
Our focus is still:
Quality not Quantity.
Our beer has won awards, been traded worldwide, written about by a multitude of writers, and is sought out by beer lovers.
Regardless of our growth, we start with ideas for great beer and brewing first. We're beer geeks at heart and are willing to try pretty much everything and anything just to prove we can do it.
After 10 years, we're still here flying the flag of independent craft beer in Winnipeg.
Hopefully, you're along for the ride.
Share:

Style:

Hefeweizen

Alcohol Content:

5%

Global Rating:
No News