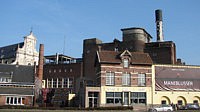 Het Anker Brewery is a Flemish brewery in Mechelen, founded in 1471 by a community of Beguines. In 1872, the brewery was acquired by Louis Van Breedam, who renamed it Het Anker ("The Anchor") in 1904. Expanding its assortment from lager to ale, it began producing "Emperor beer" after World War II. In 1960 it renamed it "Gouden Carolus" (Golden Charles) after Charles V, Holy Roman Emperor (who was raised in Mechelen). They opened a brasserie and a hotel, and in 2010 began producing a single malt whisky, distilled from the Gouden Carolus Tripel.
History
At the beginning of the 15th century, the beguinage of Mechelen had a strong presence in the town. The beguinage possessed an important "hospital" which is located at the present brewery. Some of the buildings date from the 15th and 16th century, like the old St. Bernardus shelter house of the abbey of Hemiksem.
1471
In 1471, Charles the Bold decided that "the beguines and officers" shouldn't pay any excises and taxes on the beer brewed for the hospital.
1872
In 1872, the family Van Breedam bought the brewery and built a modern brewery with a steam boiler. The love for this profession and the fascination of the family Van Breedam in the heyday of Mechelen during the reign of the Dukes of Burgundy, are the foundations of the return to traditions and the brewing of special beers.
1990
In 1990, Charles Leclef, fifth generation of the Van Breedam family took over the brewery and modernized the brew equipment.
Hotel – Brasserie – Distillery
In 1990, Het Anker opened a three-star hotel in the brewery. This is a unique concept in Belgium. The revamped brasserie was opened at the end of 2010 and the guided tours of the brewery were resumed.
Also in 2010, the 17th-century family farm in Blaasveld was turned into a whisky distillery. Production of Gouden Carolus Single Malt began the same year. The whisky was launched three years later, in 2013, and has already won several international awards!
The brewery has now gained an international reputation and exports to more than 30 countries. The beers have earned worldwide praise. In proof of this, the brewery has received several international awards over the past few years.
Share:
No News