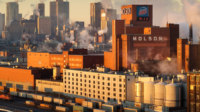 Molson Coors is an American brewery from Denver, Colorado.

With a story that starts in 1774, we've spent centuries defining brewing greatness. But, it's a job that's never finished—and that's just fine, because we love what we do.
History
John Molson founded Canada's oldest beer brewery on the banks of the St. Lawrence River in Montreal. He wrote, "My beer has been universally well-liked beyond my most sanguine expectations." In 1959, Molson Canadian was first brewed and today is one of Canada's most iconic and best-selling brands.
Adolph Coors, a penniless brewer's apprentice, stumbled on the perfect water in Clear Creek at the foot of the Rocky Mountains. 105 years later, Coors Light was born and would go on to be enjoyed by beer drinkers in over 25 countries worldwide.
Frederick J. Miller began his apprenticeships in brewing in adolescence and by 1849 was brewmaster to a prince in Sigmaringen, Hohenzollern. After immigrating to the US in 1854, he settled in Milwaukee then leased and later purchased the suburban Plank Road Brewery for $2,300. He brought a unique brewer's yeast from Germany – its descendant yeast is still used in some of our beers.
Share:



Style:

Witbier

Alcohol Content:

5.4%

Global Rating:




Style:

Light Lager

Alcohol Content:

3.5%

Global Rating:




Style:

Light Lager

Alcohol Content:

4.2%

Global Rating:

Style:

Light Lager

Alcohol Content:

4.2%

Global Rating:



No News