Moylan's Brewery & Restaurant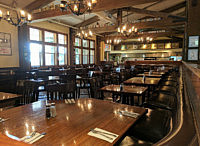 Moylan's Brewery & Restaurant is an American brewery from Novato, California.

In 1995 Moylan's Brewing Co. opened at Rowland Plaza, bringing Novato into the ranks of other world class brew towns like Portland, Oregon and Seattle, Washington, by claiming the rights to its own microbrewery, thanks to bay area native Brendan Moylan. The 44 year old co-owner of Marin Brewing Company in Larkspur, Brendan brought more than 28 years of brewing experience to Novato, which began with his first home brewing kit one year after college.
"One January I went out and bought the Christmas gift I really wanted: a beer brewing kit, and one thing led to another," Moylan said. "I got a degree in accounting and decided I didn't want to go there and started working for a beer importing company, then one day I walked into Buffalo Bill's Brewery in Hayward and my eyes got big and I knew it was what I wanted to do."
After taking extension classes on brewing techniques at UC Davis, Moylan became a founding partner in Marin Brewing Company, which opened in April of 1989.
Moylan moved his family from San Francisco to Novato in 1989 because he wanted to raise his two children in the city's small town atmosphere. In 1991 Moylan decided to expand on his brewing ideas. "My adopted home town was the natural choice for a brewery," he said.
Share:
No News