Newburyport Brewing Company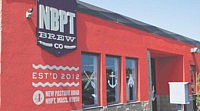 Newburyport Brewing Company is an American brewery from Boston, Massachusetts.
The Newburyport Brewing Company is a privately held craft brewery dedicated to brewing the highest quality craft beer products for local and regional consumers. Co-founded in 2012 by two local Newburyport entrepreneurs, musicians, and home brewers — Chris Webb and Bill Fisher — Newburyport Brewing is Massachusetts' own exclusive keg and can craft brewery. The company aims to capture the essence of Newburyport's quaint seaside character across a line of great tasting handcrafted ales.
We brew great beer, play in an 8-piece funk band and love adventure. A few years ago while watching the Bruins win the Stanley Cup we decided to share our passions with the world by creating the Newburyport Brewing Company. Our brand is based on three things… Using the best ingredients in the world to brew amazing beer, sharing Newburyport and its rich seaport history (the Coast Guard was founded here), and going on adventures with great beer in a can.
And music. We play it. We love it. And by the way, there's a stage at our brewery for up and coming local bands to some of the world's finest to jam.
Share:
NORTHWOODS MAPLE BROWN Ale brewed with Vermont maple syrup. Share: ... Read More
LIGHTHAUS Lemon Lime Gose Share: ... Read More
OVERBOARD NEW ENGLAND IPA Juicy. Hazy. Oh so tasty. Share: ... Read More
Get your TICKETS here! Evolvement Music and Newburyport Brewing Co. Present… the 5th Annual REGGAE FEST at The NBPT Brew Co. Saturday July 21, 2018 / 12:00pm – 7:00pm All Ages / Rain or Shine 21+ $10 / KIDS FREE / PETS WELCOME Good Live Music by 5:15PM: Taj Weekes & Adowa 3:25PM: DIS-N-DAT BAND 1:50PM: Gorilla Finger dub 12:30PM: Dread Rocks ... Read More
Get your TICKETS here! Evolvement Music and Newburyport Brewing Co. Present… the 5th Annual REGGAE FEST at The NBPT Brew Co. Saturday July 21, 2018 / 12:00pm – 7:00pm All Ages / Rain or Shine 21+ $10 / KIDS FREE / PETS WELCOME Good Live Music by 5:15PM: Taj Weekes & Adowa 3:25PM: DIS-N-DAT BAND 1:50PM: Gorilla Finger dub 12:30PM: Dread Rocks ... Read More
Paula Flynn is a local Newburyport resident and a long-time brewery regular with her husband, Kevin. They're big fans of our Melt Away IPA and Paula even has her own bar stool! She brings her incredible collection of photographs to our walls this month and we sat down with her to learn a little more ... Read More
Paula Flynn is a local Newburyport resident and a long-time brewery regular with her husband, Kevin. They're big fans of our Melt Away IPA and Paula even has her own bar stool! She brings her incredible collection of photographs to our walls this month and we sat down with her to learn a little more ... Read More
Desmond Jones is a rock/funk/jazz fusion band who comes to us all the way from Grand Rapids, Michigan on the This Is A Good Tour tour of 2018! They've been playing together for 5 years and have spent most of the last year on the road together. "Each show is different. We like to have ... Read More
Desmond Jones is a rock/funk/jazz fusion band who comes to us all the way from Grand Rapids, Michigan on the This Is A Good Tour tour of 2018! They've been playing together for 5 years and have spent most of the last year on the road together. "Each show is different. We like to have ... Read More
Growlers are a great way to take our fresh draft beer home with you. Whether you're heading to a party and want to share, or just want to crack a jug open with your best friend and watch a ball game, there's really no occasion that a growler won't improve. Growlers are typically glass vessels ... Read More
Growlers are a great way to take our fresh draft beer home with you. Whether you're heading to a party and want to share, or just want to crack a jug open with your best friend and watch a ball game, there's really no occasion that a growler won't improve. Growlers are typically glass vessels ... Read More
Many visitors to the Newburyport Brewing tasting room often ask our staff what other cool stuff they should do during their visit to our City. The short answer is that there are lots of different activities to take on depending on the season. From cozy bars to secluded walking trails there are many family-friendly things ... Read More
Many visitors to the Newburyport Brewing tasting room often ask our staff what other cool stuff they should do during their visit to our City. The short answer is that there are lots of different activities to take on depending on the season. From cozy bars to secluded walking trails there are many family-friendly things ... Read More
We just received word that Paste Magazine ranked our Joppa Grande Stout #3 in a blind tasting of 67 stouts under 8% ABV. As the weather gets cold and the Holidays approach, a lot of craft beer drinkers enjoy a darker, richer, more complex brew.  Stouts are a natural fit.  We at Newburyport Brewing also ... Read More
We just received word that Paste Magazine ranked our Joppa Grande Stout #3 in a blind tasting of 67 stouts under 8% ABV. As the weather gets cold and the Holidays approach, a lot of craft beer drinkers enjoy a darker, richer, more complex brew.  Stouts are a natural fit.  We at Newburyport Brewing also ... Read More
Newburyport Brewing recently inked an agreement with Baker Distributing in Vermont to distribute Newburyport Brewing's lineup of award-winning craft beers:  Green Head IPA, Plum Island Belgian White, Maritime Lager, Melt Away Session IPA,  and select 1635 Series limited release beers. Baker Distributing is a Vermont family owned and operated business founded in 1965. Baker Distributing ... Read More
Newburyport Brewing recently inked an agreement with Baker Distributing in Vermont to distribute Newburyport Brewing's lineup of award-winning craft beers:  Green Head IPA, Plum Island Belgian White, Maritime Lager, Melt Away Session IPA,  and select 1635 Series limited release beers. Baker Distributing is a Vermont family owned and operated business founded in 1965. Baker Distributing ... Read More
COORDINATES 42.8126° N, 70.8773° W Share: ... Read More