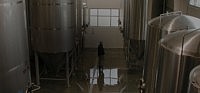 Uinta Brewing Company is an American brewery from Salt Lake City, Utah.
Our founder wanted to brew the country's best beer, so he moved to the country's least beer drinking state. He named us after a mountain range that even people here mispronounce (you-in-tuh).
History
1993
Uinta Brewing is founded! An old mechanic's garage is leased and Will graduates from a bathroom homebrew system to a 15bbl Brewhouse. It takes months before people stop dropping their car off for service.
1993
Two 30 bbl Fermentation tanks and a 30 bbl Brite tank are installed and filled with the first production-sized batch of Cutthroat.
1994
First kegs of Cutthroat hit the market in early February and King's Peak is kegged that same weak. India IPA (now known as Trader) follows suit. Today, these three beers are old enough to drink themselves. Production reaches 2,000bbls of beer.
1996
We install a Krones bottling line capable of capping 130 beers a minute. Cutthroat, King's Peak, Trader and Golden Spike are released in 12oz bottles.
2000
Just in time for the 2002 Winter Olympics, Uinta beings construction on a new brewery; a 26,000 sq. ft. building designed for production brewing.
2001
Our 15bbl Brewhouse seems puny in our new space, so we install a 40bbl brewhouse in its place. (fun fact, over 100 unique brews were born on this system which still resides in our brewery today)
2001
We go 100% wind powered – the first business in Utah to do so. Our operation now runs on sustainable energy, including our brewery's boombox.
2005
Uinta launches Four+ Brewing Company, an offshoot brand focused on the elemental process of beer. Monkshine and Wildfire (now known as Wyld) are born paving the way for this new line.
2007
We welcome four 240 bbl indoor fermentation tanks and can now ferment 29,760 gallons of beer at once, about the same amount of beer we made in our first two years combined.
2009
Bourbon and Rye barrels are rolled in to the brewery and we initiate a barrel-aging program.
2010
Viva the Crooked Line! We install a one-of-a-kind Italian bottling line custom built to bottle, cork and cage 750ml bottles of beer and the "Crooked Line" is born. These specialty beers are crafted in limited batches and veer from traditional brews. Local artists are commissioned to design the label art for each release.
2011
Here comes the sun! Solar panels are installed on our roof– enough to power a poorly maintained 1982 Volvo station wagon. Wind and solar now work together to power our entire brewery, and about a dozen iPods.
2011
Our newly designed, proprietary compass bottle hits the market insuring that no one will ever get lost with a Uinta bottle in hand.
2012
We buy and demolish a church south of the brewery to build a 34,000 sq. ft. packaging facility. Considering Benedictine Monks were the first people to brew beer, we think they'd be okay with it. Our campus now spans 5-acres. We land on the Top 50 Us craft breweries list having produced nearly 45,000bbls of beer –lookout world!
2013
A Krones AG canning line, capable of cranking out over 300 cans per minute is commissioned and Compass Cans join our product offerings- Uinta beers are now adventure-ready. Hikers everywhere rejoice.
2013
We expand, again! A 5-vessel 135bbl fully-automated Braukon brewhouse is designed and arrives from Germany. To accommodate our new toy, we expand our north building giving our new brewing equipment a room-with-a view and adding an outdoor fermentation farm. A sixer of 520bbl outdoor fermentation tanks arrive adding some bling to our breweries exterior.
2015
More outdoor fermentation and brite tanks arrive and we're capable of producing enough beer to fill over 11 olympic-size swimming pools! The 38th largest craft brewery in the Nation, Uinta can now be enjoyed in 35 states and our adventure journal is stock-full of stories to tell.
Share:
No News