DuClaw Brewing Company is an American brewery from Mount Airy, Maryland.


DuClaw is not your typical brewery. We consider the art of beer making sacred and maybe that's why we've won more than 60 awards. And with more than 30 distinguished microbrews, ranging from Double IPAs to Barley Wines to Malts and beyond, we deliver on what we promise. If the label says Double IPA, then a Double IPA is what you're drinking – and a damn good one, too.
We've come a long way since 1996 and we didn't get here by creating a cheap beer for the masses. We got here by respecting each and every beer we make. And when you care about making really good beer, when you stay focused on what really matters, people respond.
Share: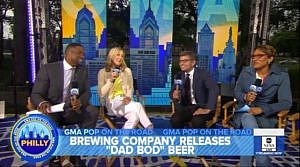 Dad Bod beer by DuClaw Brewing Company featured on Good Morning America. (2-2:30): https://www.goodmorningamerica.com/culture/video/prince-harrys-fans-celebrate-fathers-day-special-63684674   Share: ... Read More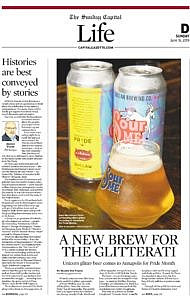 The lauded glittered sour ale has made its way to Annapolis for Pride Month in June. https://www.capitalgazette.com/lifestyle/ac-cn-unicorn-pride-beer-0612-story.html Share: ... Read More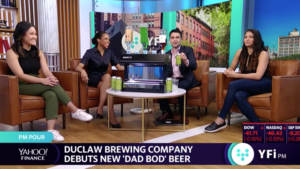 The Yahoo! Finance team reviews 'Dad Bod' double IPA from DuClaw Brewing Company in honor of Father's Day. https://finance.yahoo.com/video/dad-bod-beer-10k-omega-200110544.html Share: ... Read More
How some breweries are using odd ingredients to stand out from the rest. https://www.pastemagazine.com/articles/2019/03/strange-brew-beers-with-super-odd-ingredients.html Share: ... Read More
Taste the Rainbow: https://vinepair.com/buy-this-booze/pride-beer-2019/ Share: ... Read More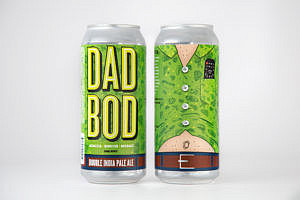 Humorous Paternal Beers https://vinepair.com/buy-this-booze/pride-beer-2019/ Share: ... Read More
Join us at the Brewery for our 2nd annual 'Pet-A-Palooza' festival on Saturday, May 11th from 12noon-4pm to benefit Baltimore's BARCS Animal Shelter. FREE ADMISSION! Food, Beer, Fun, and Games await you! EVENT DETAILS: • Special Pre-Release of our next Sour Ale, 'Sour Me Carolina', Dessert Stout, 'Bourbon Barrel Aged Vietnamese Coffee' & Double IPA, ... Read More

December 28, 2018 Grab your friends, it's time for a party! DuClaw's Sour Me Festival will highlight the 'Sour Me' Series and various other Sour Ales on tap with styles from ones that are barrel aged, to dry-hopped, to ones dosed with fruit purées. Enjoy live music, food trucks, 22+ beers on tap, special firkins, and ... Read More

November 20, 2018 Join us for the next DuClaw Can Release Series Event! This is a special brewery-only, pre-release of our next Sour Ale, Double IPA, & Russian Imperial Stout variants. Get them before they hit store shelves! See upcoming release dates and beers below.  Can releases at the brewery are hosted every other month and ... Read More

November 20, 2018 Join us for the next DuClaw Can Release Series Event! This is a special brewery-only, pre-release of our next Sour Ale, Double IPA, & Russian Imperial Stout variants. Get them before they hit store shelves! See upcoming release dates and beers below.  Can releases at the brewery are hosted every other month and ... Read More

November 20, 2018 Join us for the next DuClaw Can Release Series Event! This is a special brewery-only, pre-release of our next Soue Ale, Double IPA, & Russian Imperial Stout variants. Get them before they hit store shelves! See upcoming release dates and beers below.  Can releases at the brewery are hosted every other month and ... Read More

November 20, 2018 Join us for the next DuClaw Can Release Series Event! This is a special brewery-only, pre-release of our next Sour Ale, Double IPA, & Russian Imperial Stout variants. Get them before they hit store shelves! See upcoming release dates and beers below.  Can releases at the brewery are hosted every other month and ... Read More

November 20, 2018 Join us for the next DuClaw Can Release Series Event! This is a special brewery-only, pre-release of our next Sour Ale, Double IPA, & Russian Imperial Stout variants. Get them before they hit store shelves! See upcoming release dates and beers below.  Can releases at the brewery are hosted every other month and ... Read More

November 20, 2018 Join us for the next DuClaw Can Release Series Event! This is a special brewery-only, pre-release of our next Sour Ale, Double IPA, & Russian Imperial Stout variants. Get them before they hit store shelves! See upcoming release dates and beers below.  Can releases at the brewery are hosted every other month and ... Read More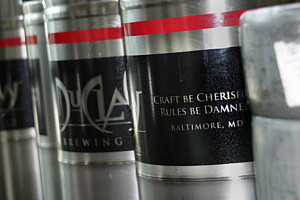 September 25, 2018 Enroll in our Fall 2018 Brew Master Classes! Fall 2018 session: Saturdays an Sundays, October 6th through October 27th held at the DuClaw Brewing Company Brewery in Rosedale, MD. Admission is free, all materials are provided, and sessions are taught by local brewmaster, Ernie Igot. More about Ernie Ernie has worked in the ... Read More
June 25, 2018 Stop by the DuClaw Brewery to grab the next releases in our 16oz can: Dessert Stout, Sour Ale, and Double IPA series! The brewery will be open for tours and can sales only. Everyone 21+ older will receive 3 free sample tickets to sample any 3 of our brews on tap. ***this ... Read More
June 25, 2018 You've prepared all year and it's back… DAY OF RETRIBUTION! Join us Saturday, November 3rd between 11am and 3pm, for an open house event and one-day-only direct sale of classic, vintage, and variant versions of Retribution Bourbon Barrel-aged Imperial Stout! 12oz bottles available at this year's sale: -Classic Retribution 2018 – (TBD) Retribution ... Read More

DuClaw's Pet-A-Palooza Benefiting BARCS May 25, 2018 Join us at the Brewery for our 'Pet-A-Palooza' festival on Saturday, September 22nd to benefit Baltimore's BARCS Animal Shelter. FREE ADMISSION! Food, Beer, Fun, and Games await you! EVENT DETAILS: • Special Pre-Release of our next Sour Ale, Dessert Stout, & Double IPA in our DuClaw Release Series. (Tasting notes ... Read More

April 2, 2018 The next 16oz beer can release of our latest Sour, Dessert, and Double IPA series drop 06/23 at the brewery before hitting stores. Join us at the DuClaw Brewery from 11am-3pm for your best chance to snag these brews! LAST RELEASE – MAY 19TH •'Sour Me Blueberry' Sour Ale •'The PastryArchy Blueberry ... Read More